Reminder!! (MOM and GRANDMOM, this means you!!) We are moving to a new url! I'll be double posting here and our new home for a couple more weeks. Head on over to www.elislids.com/blog and get added to that RSS feed.
Eli's Lids has always had a heart for charity! We now donate 10% to an amazing Southern California Autism non-profit called Surfers Healing. But I'm not going to tell you about it... my friend Jo from
A Sweet Dose of Truth
&
Autism in the OC
over at
OC Family
will give you her moving first hand experience with Surfers Healing...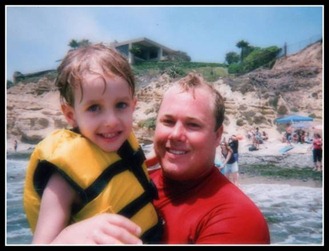 Andrew
loves water; he always has. He finds temporary respite from the confusion and chaos of autism along the sandy beaches of the California coast, and is
happiest when he can linger in the bathtub
at the end of a long and grueling day filled with behavioral intervention and
taking orders from well-meaning therapists
(and parents). The flat screen tv and Wii have got nothing on good old fashioned H20, and we indulge our son as often as we can. I've even been known to don a bathing suit at pool parties so that he can enjoy splashing around and I can be reminded that my
carb addiction comes with unsightly side effects;
a true testament to that little thing we call unconditional love for our children.
A few years ago we were introduced to Surfer's Healing, a non-profit organization that provides children on the Autism Spectrum the opportunity to surf with a pro at local beaches across the nation. The day camp fills up at lighting speed, but somehow that year we were lucky and made it on the list.
We drove south from Orange County and arrived in San Diego on a blistering hot day in July. Before we even had the car parked, our son caught a glimpse of the ocean waves and began squealing with delight. We made our way towards the crowd gathered along the shore; parents, therapists, and children of all ages who had varying degrees of autism were enjoying the beautiful day sitting under the tents and splashing in the water. Professional surfers were easy to spot in their bright red wet suits, while children were being ushered towards friendly volunteers and buckled into life vests. I saw the giant surfboards laying in the sand, took one look at my then tiny five year old and had a momentary flood of fear come over me. A brief glance at the giant smile plastered across Andrew's sun drenched face calmed my nerves and reminded me that we were here to give him the experience of a lifetime.
Minutes later it was our turn to approach the young woman who was holding a clipboard and shouting names above the rolling tides behind her. She handed us a bright yellow life vest and after some coaxing we were finally able to secure it onto Andrew. Our professional surfer introduced himself but I wasn't paying attention; I just wanted my son back safely and in one piece. I gave Andrew one last hug and kiss and bit my lip as he was whisked away, into the wide open sea, the blue-gray water much larger and deeper than our bathtub at home. I focused on taking pictures while silently I prayed for his safe return.
And then it happened.
Andrew, easy to spot in yellow, began riding a wave, his little body standing on the surfboard, supported by the confidant pro; a gentle giant guiding them swiftly across the water. The look of peace and tranquility on Andrew's face was something I will never forget. Gone was the distant gaze we struggled so hard to break through during therapy, and in its place was a little boy at one with his surroundings, a little boy suspended in time, a little boy given a chance to just live in the moment.
And that is what Surfer's Healing is all about.
Giving these amazing kids the opportunity to do something they love.
And giving their parents the opportunity to witness a miracle, if even for just a little while.
Thank you Jo!! I'm thinking you'll need to post here more often...